REMCO
The Towing Experts
Giving Towing a Brake!

Towing a vehicle of just 2500 lbs. can add up to 30% to your motorhome's stopping distance! That added distance can turn a minor emergency stop into a major accident.

Now you can reduce that critical stopping distance - and decrease the wear and tear on your RV's brakes every day - with the New REMCO BRAKING SYSTEM. RBS is a surge brake system designed to automatically apply your towed vehicle's brakes whenever the motorhome begins braking.
back
Here's how It Works...
When you press on the brakes of your motorhome, the continued momentum of your towed vehicle will cause the cushioned RBS Ball Mount with control rod to slide forward and apply pressure to the RBS Master Cylinder. The RBS Ball Mount acts like a brake pedal in the hitch by pushing against the Master Cylinder.

The pressure on the RBS Master Cylinder pushes brake fluid back to the RBS Actuator (installed in the brake lines) which directs the brake fluid to the front wheels and applies the brakes. The specially cushioned ball mount will absorb the shock that could be noticed during braking and prevent the vehicle from riding against the RBS Master Cylinder when going downhill.

As a convenience, the hose between the back of the motorhome and front of the towed vehicle has a quick disconnect at each end. The quick disconnects will not allow any brake fluid to leak out or air to enter the system when connecting or disconnecting.
| | |
| --- | --- |
| RBS receiver is welded to the bottom of your RV's existing 2" receiver hitch and will not in any way affect the performance of your RV or towed vehicle when the two are unhitched. | The system's small profile makes it practically invisible and once installed connecting a disconnect RBS takes only seconds! |



This new design to the RBS requires no welding and slides easily into any standard receiver tube allowing the RBS to be transferred to any motorhome.
Go To Home Page Go To Order Page Go To Products Page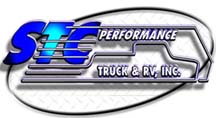 1-800-230-3694
2265 E. 16th St.
Yuma, Arizona 85365
Phone (928)329-7681

12464 McCann Dr.,
Santa Fe Springs, CA 90670
Phone 562-944-3694

E-mail - Dieselgaspower@aol.com